Customer relationship management
Software built to assist in customer retention, and drive sales growth. It helps with automating sales, supporting the lead process, and providing valuable insights for making data-driven decisions.
Lead management is a crucial aspect of business growth as it helps in identifying and converting potential customers into paying ones. The process involves lead generation, qualification, nurturing, conversion and tracking and reporting. At Halo, we have applied lead management based on programing and AI.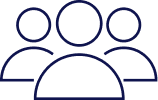 Automating the sale process
At Halo CRM, we understand the importance of streamlining the sales process to increase efficiency and productivity. That's why we offer a cutting-edge solution that automates various tasks and streamlines the sales journey. Our platform helps sales teams focus on what matters most - closing deals. With Halo CRM, businesses can simplify their sales process and drive better results.

In Halo, regular sales forecasting reports are generated automatically for you, providing a more precise estimate of your expected sales. Our CRM allows you to adjust your sales tactics to align with your business objectives by using these reports.

CRM software can be built using various programming languages such as Java, JavaScript, Perl, PHP, and data modeling tools such as Oracle SQL Developer. Our team of experts has created Halo, a customized CRM solution using PHP for the backend and JavaScript and CSS for the frontend. Their proficiency in UX and UI design ensures a seamless user experience.
Collecting lead information is a challenge for CRM systems. A chatbot on WhatsApp was used to address this challenge. The chatbot collects lead information through conversations, providing efficiency and convenience. It also allows for 24/7 availability, enabling lead information to be collected at any time. Integrating a chatbot into the CRM improves the overall system and effectively addresses the challenge of collecting lead information
Halo CRM streamlines the lead management journey from start to finish by offering a centralized platform that utilizes a chatbot to generate leads. It boasts a comprehensive analytical and reporting system to monitor sales team performance and facilitate data-driven decision-making. This optimizes the entire process and provides valuable insights.
At Halo, our mission is to revolutionize the sales process for salesmen everywhere. Our innovative CRM app streamlines the process of lead assignment and customer outreach, providing a seamless and efficient platform for sales professionals to increase their productivity and close more deals. With its user-friendly interface and cutting-edge technology, Halo empowers salesmen to focus on what they do best - selling.
If you're looking for a CRM tool that makes customer and sales management effortless and efficient, Halo is here for you! Streamline teamwork and decision-making with secure, centralized information and quick tasks at your fingertips. Book a free demo today!